If Proton Theatre's
Dementia
last week seemed only tenuously linked to the SIFA theme of Post-Empires, this week's offering by Natalie Hennedige and Cake Theatrical Productions confronted the idea right at its outset, with a liturgy of all the empires that have come and gone over the course of human history: Babylonian, Assyrian, Greek, Roman, through to the French, German, British et al.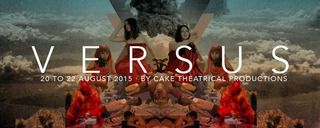 With that,
Versus
launches into what must be one of the most bizarre attempts to tell the epic story of human experience, history and struggle from beginning to end – from Creation (quite literally, since in the middle of the play we are brought back to "Genesis" in the Bible – albeit one in which the snake from the Garden of Eden coexists with dinosaurs and sabre toothed tigers) to (self) Destruction. There is no overarching narrative and only the semblance of a structure imposed by the bookends of beginning and end. Themes are raised, thrown away, and returned to again and again. The Director's Note in the program booklet claims that the story contains in it:
… birth/life/mission/leadership/violent dictatorship/hypocrisy of the elite/rebellion/fear and suffering/emergence of brave new thought/acts and ways of being/incarceration/torture/death/renewal and hope.
And if that seems like a lot, it is.
These themes are explored by way of character archetypes. We are presented with a rebel/idealist, a mother/protector, a authority/Snake/Pontius Pilate figure, and even a Cleopatra/Empress Dowager figure (whose other elements I had difficulty pinning down). With such archetypes in play on stage the temptation is to see
Versus
as being solely about the rise and fall of empires and the never-ending struggle between freedom and power. There are some moments when it is explicitly that: for example, in one scene there is an explicit poke at the upcoming elections in Singapore featuring some not-so-subtle vote buying by the authority/Snake/Pontius Pilate figure; in another, the rebel/idealist is tortured by the same authority/Snake/Pontius Pilate figure and asked to denounce his homosexual lover and love. But the lines that Michelle Tan's text keeps returning to again and again have nothing to do with the struggle for or against power:
"Your sorrow isn't unique."
"That doesn't make it any less heavy to bear."
Instead, they indicate that the truly endless human struggle is with and within our own selves: between our very real sense of despair and capacity for hope. Man versus himself. A never-ending existential crisis played out on the canvas of existence and interrupted (as the text itself points out at one point) only by death.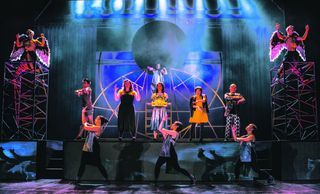 I have to admit, I felt torn by the show. This was my first time catching a Cake Theatrical Productions show, and I had been warned that their style was rather "unique". As it was, I agree that their visual aesthetic (strobe lights! Videos! Dance! Song! Industrial/grunge-style angels leaping about the stage! Naked baby dolls impaled on spinning wooden poles!) is definitely like nothing else I have ever seen from a Singapore production company and certainly very arresting. And what really impressed me was the quality of performance. Tan's text is riddled with clichés and platitudes. The lines I quoted above illustrate this point clearly: they are nothing new and have been said a million and one times before. Yet the quality of the actors' performances was that
despite
the words they were saying and
despite
the highly abstract, surreal and unrealistic environment they were being asked to say them in, they were able to transcend the words to find the impact of them and make them seem fresh, new, and true once more. Words such as
"Some days are harder than others."
"All days come to an end."
were able to hit me as a listener in the core of my being because it felt like they were being spoken from the actors' own cores. The cast really has to be credited for the massive effort they put into the work and the very impressive performance that they delivered. Special mention should also be made of Edith Podesta, who was particularly touching, funny, believable and magnificent in her role as the flighty schizophrenic/woman/bird-brained pterodactyl archetype.
Of all the cast it was she who inhabited the unnatural and rather demented space of the production with the most ease and effortlessness. As a result it was impossible to tear one's eyes off her performance.
But, even as I registered the strength of the performances and Cake's "unique" visual style, a part of me still found it impossible to be swept away by the production and the emotions it generated. Instead, that part of me registered how I felt that I was being repeatedly bludgeoned with the same ideas, the same words, and the same imagery over and over again (something possibly not helped when this atheist audience member found herself confronted repeatedly by liberal helpings of Christian imagery and language - so much so that at one point an actual Christ figure is wheeled out on a scaffolding, strung up to die and has her side pierced in a direct re-enactment of Longinus piercing Christ's side with his spear. Even with my relatively high tolerance for allusions to Christianity in English literature, this seemed a little heavy-handed). And knowing, too, that the production sought to repeatedly hit me to my core with its discovered truths and wisdoms, my comment to my companion after was that at some point any relationship that consists of one party being persistently hit by another could (and possibly should) be considered abusive.
Credits:
Conceived & Directed by: Natalie Hennedige
Story: Natalie Hennedige, Michelle Tan
Text: Michelle Tan
Scenic & Prop Designer: neontights
Sound Designer: Philip Tan
Projection Designer: Brian Gothon Tan
Costume & Visual Designer: David Lee
Lighting Designer: Any Lim
Mural Designer: Godwin Koay
Cast:
Thomas Pang, Andrea Ang, Edith Podesta, Julius Foo, Goh Guat Kian, Rizman Putra, Kenneth Tan, Kow Xiao Jun, Bib Mockram, Alexandre Thio, Sukania Venugopal