Rather in the same way that the character of CS Lewis in this play half-jokingly complains that they can never get away from the large couch sitting so prominently in a corner of the set, society never can quite seem to get away from Sigmund Freud - even when one
isn't
talking about his theories on sex.
Instead this play is about a lesser known public stance of Freud's: his atheism. It was known that a few weeks before his suicide, Freud met with an unknown Oxford don. Playwright Mark St. Germain's tightly-written piece posits the question: what if that don was CS Lewis and if so,
what would they have discussed?
St. Germain's answer is simple:
everything
. God, war, Hitler, music, love, sex, fear and suicide - the imagined discussion ranges the whole gamut of possibilities and the audience is treated to a vision of what they know must be true: that if you throw great men with great minds together in a room, the result must be electrifying.
It would be foolish to try and summarise the play's content any further; but I will indulge, however, in a summary of what I thought was best about this production.
First, there was the set. Wong Chee Wai's creation is splendid to behold in its attention to detail and inclusivity. From the moment you stand at the Esplanade Theatre Studio's entrance, you are faced with a spot-lit white-washed cottage door. "Welcome," it says, "Welcome to the House of Freud - and come on in." Having entered, you are inside Freud's study - with his bookcase of trophies and knick-knacks, his desk on one end, his famous couch on the other, and large windows opening up into a plant-filled garden outside. As you take a seat in the audience you realise that the cornices of his study extend all the way from the stage into the audience space. Once again, the set welcomes you inside and says to you, the audience, that you are in that room, sharing that space with these two great men. Invisible watchers; but invisible participants too in the important debate that follows. It is a warm, welcoming, inclusive and beautiful set and one that I am still very impressed by.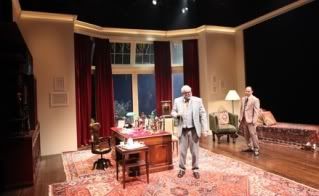 Secondly: Matt Grey. I cannot adequately express how impressed I am by Grey's versatility. He is easily the most versatile actor I have seen in Singapore thus far. His Freud - of the stiff arthritic limbs and precisely accented German English - was the furthest cry possible from his singing, dancing, endearing and be-suited gay Toddy in
Victor/Victoria
nearly 3 years ago. I found myself staring in disbelief at the credits in the programme booklet. This was a pitch-perfect performance in terms of the mixture of stubbornness, impatience, keenness of wit and pathos that Grey brought to the character of Freud. And as one of two only two characters in the play, his ability to sustain that quality of performance was amazing - I take my hat off to his sheer stamina. Maintaining a German accent and the movements of a sick and dying 80-year-old must be immensely taxing and he was, when I caught him tonight at 8pm, about to do it a second time just over half an hour later.
Last: the authenticity of the debate that is the centre of this play and the evident conviction on the part of the playwright that this
particular
debate between
these two men
was - for some reason - worth staging. The debate seen on stage between Freud and Lewis is not the best possible debate in terms of intellectual content; indeed, one suspects the real Freud and Lewis, had they really met, would have had a far more productive discussion and quite possibly provided a few more answers to some of the easier questions that were asked. But no one expects St. Germain to authentically match the intellects of both of these formidable geniuses. That would simply be too much to ask. But why these two men and why this debate? Because, I think, St. Germain is trying to convince us that this is a debate worth having. And in a different sense of how that phrase is usually used. There are few who would deny that the existence or non-existence of God is an important debate and one that must be had. Yet everywhere around the world, debates in this field have degenerated into what
Simon Jenkins of the Guardian recently dubbed
"a platform of rival angers".
This imagined debate between Freud and Lewis, however, is anything but angry. It it humorous (on both sides), self-deprecating (on both sides) and self-aware (on both sides). Like the debates that rage around religion these days it comes to no concrete resolution - an impasse between both sides sustained by opposing convictions and nothing else - and is frustrating for those seeking definitive answers. And yet how much more exhilarating is the debate of these two giants of our recent past to the petty, sulky and even childish arguments that take place in our public sphere these days? A debate is worth having if it is also a joy to engage in - not if it leaves you despairing not only of the existence of God but of the existence our common humanity and empathy. This, I suspect, was the crux of St. Germain's thesis for this play and for that I applaud him, for it is one I share myself.