It's rather hard to justify missing out on Lady Gaga when she comes round to your country on tour - especially since it's been 4 years since she was last here and she's had a never-ending string of hits since that more than justify concert attendance despite my never having listened to her albums in full before.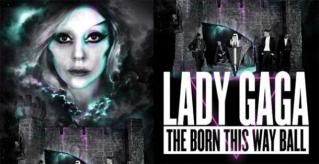 But the whole point of a Gaga concert has never been the music alone - it's the
show
that you're there for. And the Lady did not disappoint. I mean, she brought in a HUGE FRICKIN CASTLE. A CASTLE! That opens up to reveal alcoves for the live band members and that you can climb up and down and disappear down hatches into. And an animatronic face of herself! (Ok so I've been told it probably wasn't animatronic but a projector-based trick - but still, it looked like it was animatronic, and I am suitably impressed.)
Basically, watch and learn, all you other divas - Gaga has taken showbiz and blown it sky high.
And talk about building castles in the sky - I don't want to even think about how much building that set costs. Or how much it costs to ship it around the world.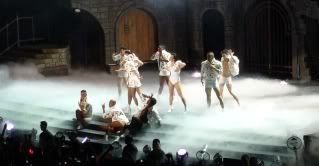 In the presence of a set as dominating as this, any talk of the music seems secondary and to a certain extent a lot of it was. Apart from her standout singles (the usual suspects:
Born This Way
,
Bad Romance
,
Poker Face
,
Just Dance
,
Paparazzi
,
Edge of Glory
,
Marry Tonight
), the other songs from her latest album seemed to fade into an indistinguishable mass of song and dance routines that, while not bad, didn't quite catch the crowd in the same way the hits did.
Even the costumes were decidedly tame for a Gaga show - though I put it down to the fact that all the money probably went into the set. I mean, really, do you need fancy costumes once you have a huge castle? I wouldn't.
While it was by any standards a blow-your-mind-over-the-top show deserving of the Gaga label (and gaga treatment), however, I came away from the concert with pretty mixed feelings. The truth of the matter is: Gaga managed to irritate me like no other singer/artiste I have ever seen perform has ever managed before.
This feeling did not come on suddenly; it built up progressively over the course of the concert - but with the end result that I spent most of the last 45 minutes of the concert in the lowest mood possible and with my enjoyment of the music completely killed. It started with her pre-
Judas
schtick where she placed herself in a Christ-like position in relation to the crowd and claimed to be the embodiment of our hopes and dreams and painted herself our saviour. While I understand that it was really an essential part of the lead-up to the next song, it really felt like it was laying it on a little unnecessarily thick. I'm not religious, but my immediate reaction to anyone claiming to be the embodiment of my hopes and dreams is to tell them to take their bodies and shove it up somewhere rude (hence demonstrating why I'm not religious). But while this was mildly irritating, I did try to give it a pass on artistic grounds. The next bit, however, where she claimed to be a "non-conformist" and a "rebel" and to not give a "f***" about what anyone thought hit me like a sledgehammer though, with its inconsistency in light of the news (just broken this morning) that she was
cancelling her shows in Indonesia because of threats from Muslim elements
. The hypocrisy of her statements in light of this was impossible to ignore: if you didn't give a "f***", then why not go ahead with the concerts and damn the consequences? To preach overthrow and freedom only in countries that offer you a safe and licensed platform to do it struck me as ludicrous and by the time she hunched herself over her keyboard-outfitted motorcycle and started telling us the story of her being thrown into the trash by boys in high school, I was so disgusted by this whole display of naive and
American
first-world "can-do" spirit I couldn't maintain my good mood any further.
I'm aware that saying all the above won't garner me any fans (and will probably earn me some flames, if this post is seen by the general public) and I also know that Gaga was being Gaga: she
is
over the top with everything - and not just in terms of performance. But this was what I honestly felt and it's a pity I felt it, because I was all ready to be blown away and to have a great time. Unfortunately for me, reality got in the way of the castle and managed to overshadow it in the end.
In that sense, it was quite a pity.