This was to be the first of several plays I was planning to catch in London during my summer sojourn this year. It was also the one I was probably most looking forward to, as I have been wanting
desperately
to see David Suchet on stage for some time now. And I certainly ended up with more than I hoped for. I did not merely see him - I spoke with him, shook hands with him, and took a photograph with him. Oh, and got his autograph as well.
He really is one of the kindest stage "stars" I have ever met.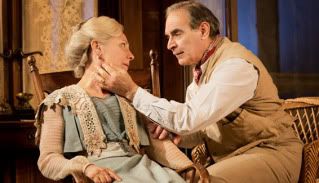 But enough about that. How was the play? This was my first Eugene O'Neill but most people who knew the play thought I would enjoy it. And I did. This unashamedly autobiographical play of O'Neill's own painful family experience (even the two sons are named after his brothers) is heavy-going and ultimately offers no tale of redemption or of hope for the future, but it is a deadly accurate account of one family's - and possibly the whole of humanity's - suffering in the face of the painful past and the equally painful present.
"The past is the present, isn't it? It's the future, too. We all try to lie out of that but life won't let us."
Long Day's Journey Into Night
is a play that tracks a single day in the life of the Tyrone family as the morning progresses into night. The stage lighting and the story tracks the movement of daylight into darkness, but the play itself is really tracking very different moves from light to dark: from youthful promise to aged disappointment, from innocent love to the bitterness of experience and knowledge, and from fragile sanity to insanity. It may be Mary Tyrone's mental retreat from her painful present into the simpler, more innocent past that appears to be the focus of this family tragedy; but the reality is that all four Tyrones are still caught up in the past and are each following their own descent from light to dark, happiness to despair.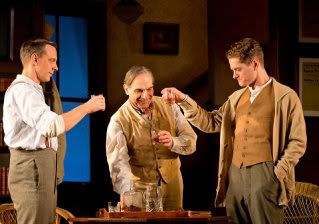 Much of the play is about remembering - and about how remembering the past can pull us deeper and deeper into an unhappiness that we then cannot escape:
"James! We've loved each other! We always will! Let's remember only that, and not try to understand what we cannot understand, or help things that cannot be helped - the things life has done to us we cannot excuse or explain."
We are all taught that love means forgiveness; and in this play, forgiveness is on display at every turn. Every unkind word; every bitter remark - these are followed immediately by the offending character pleading for the others' forgiveness and usually receiving it. Because they are family - and because they love one another. Yet, Mary Tyrone's plea above is not about forgiveness but about forgetting - to "remember only" the good. For as she realises, forgiveness is nothing without forgetting as well. Her family are all too ready to forgive her her previous slips from sanity into insanity (though in reality one must ask if there really is anything in that which needs forgiving) - but their inability to forget cause them to eye her with suspicion, to question every word she says, and ultimately to drive her further into loneliness, unhappiness and despair.
"But I suppose life has made him like that, and he can't help it. None of us can help the things life has done to us. They're done before you realise it, and once they're done they make you do other things until at last everything comes between you and what you'd like to be, and you've lost your true self forever."
Thus, the past makes prisoners of us all. And
Long Day's Journey
is almost Chekovian in its portrayal of characters who suffer because of their inability to let go of the past. The past, for O'Neill, is depicted as a dangerous thing. Mary escapes her present unhappiness and loneliness by sinking deep into her past with the help of heroin; James Tyrone's stinginess is borne out of a past childhood of hardship, acknowledges that his obsession with money came back to hurt his ambition and stage career - while his family argue that it has similarly hurt them both individually and as a family all their lives.
In some ways, O'Neill might be said to be making a plea for forgetfulness - on the basis that if the past and remembering is the source of our unhappiness then we can only escape it when we forget and let go completely. And he does give Edmond (who is really occupying the position of O'Neill himself in this dysfunctional family) a speech elegizing the power of losing and forgetting oneself:
"I became drunk with the beauty and singing rhythm of it, and for a moment I lost myself - actually lost my life. I was set free!... I belonged, without past or future, within peace and unity and a wild joy, within something greater than my own life, or the life of Man, to LIfe itself!"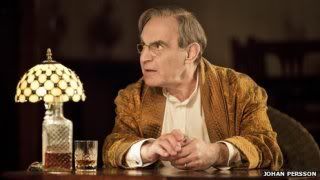 But in reality, I think, the play amounts to a cry of, "O, how unhappy the lot of man is! And how unhappy is it to be alive!" For there are no moments of real happiness in this play. The jokes, laughter and stories told by the four characters segue almost immediately into recriminations and arguments, while reminiscing about the happy past only serves to underline the characters' present misery and to spark feelings of bitterness on their parts.
The future, too, looks no better. There is no sense of redemption, or sense of being able to overcome the present tribulations. We know at the beginning of the play that Mary is only recently returned from convalescing at a home. Her return to sanity, a drug-free life and her family is a recent one. Yet in the course of a single day, she is driven back to the drug and to the past, while her family watches helplessly on - desperately wishing her to do something to stop herself sliding back and unable to do anything but watch helplessly on.
It is clear that an overwhelming sense of helplessness pervades both the play and hte lives of this characters. When Edmond speaks bitterly of that fact that:
"I will always be a stranger who never feels at home, who does not really want and is not really wanted, who can never belong, who must always be a little in love with death."
he is speaking with O'Neill's voice, and not only of himself - but for all mankind. We must all, the play suggests, be a little in love with death. For between seeing the first light of day at our births and the darkness of our deaths is the long, exhausting, miserable and lonely journey that is life. We may try to understand and to be there for one another - yet as the story of Mary and James Tyrone's love turned to bitterness tells us: in the end, we always make that journey alone. Even if we were lucky enough to fall in love and to be loved back. We are all prisoners: of the past, of the present, and of Life itself. And because the freedom that comes from forgetting is impossible (who is able to forget?), the only real freedom is in death.
No, O'Neill's conclusion is not a happy one at all.
I may have watched this production because I wanted to see Suchet in action, but in truth it was a fine ensemble piece - with all four performances strong and well-developed. I have a few reservations about Laurie Metcalf's Mary Tyrone, though. I felt that while Metcalf captured her character's nervousness and abstractedness well, she lacked the girlishness called for in the script. Her dry, and ultimately mature awareness was well-suited to the bitterness of the present-day Mary, but that maturity needed to be contrasted with the innocence and girlishness of a convent girl in order to capture the full extent of Mary's regression into the past and into her past self. That element was a little lacking.
It also felt at times that the play's lines were being delivered at breakneck pace. I struggled a little at the beginning to catch up with the words as they sped from the actors' lips. While I appreciate that pacing is of the essence if this long play is to be performed in 3 hours, there were times I wished for some more pauses in order for the audience to catch its breath and for the enormity of some of the on-stage revelations and biographical detail to sink in.